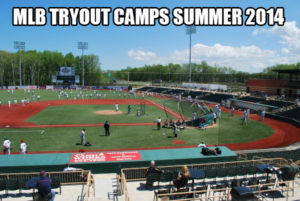 Major League Baseball has opened its doors again and it is now time to schedule your MLB tryout camp for 2014. If you have always wanted to show your talent to big league scouts then now is your time.
If you want to have the best chance possible to get noticed at one of these Major League Baseball tryout camps then follow the list below. If you are looking for some training programs to help prepare yourself for putting up some elite stats at these MLB tryout camps then checkout the 3X and 2X programs. We will also be running 3X and 2X VCamps for those who are looking to get big results quickly. These programs are the best at increasing throwing speed, hitting speed and running speed. Do not go to one of these MLB tryout camps this summer 2014 unprepared. You do not get many chances to make a big first impression.
*IMPORTANT NOTICE: Camp locations and date and time is always likely to change. To make sure you have the most up to date information visit the MLB.com website here for these listings.

MLB Tryout Camps 2014 Tips
Most players who attend these camps go unprepared. Either unprepared physically or unprepared logistically. This means they have no idea how the process works. Here is the process of getting picked up from these MLB tryout camps. If you have some elite stuff to show off at one of these tryouts then the scouts at the camp will record your information and report it to their boss. If the organization wants to learn more about your talent then they will invite you to a private tryout with a Crosschecker or another area scout. If the Crosschecker likes what he sees then it goes up to his boss the Scouting Director. From there they will want to see you a few more times before they start to get seious about you. Then they will either put you in the draft or sign you outside of it. Either way these MLB tryouts are just to beginning of a long process of recruitment.
Here are some tips to give you the best chance to start the process going.
Do not attend a camp until you have elite stuff. Get started with one of our training camps or programs if you need help in this department.
Listen and do exactly what they ask of you at the camp.
Dress professionally and act professionally at all times.
Do not waste their time. If they ask you to take a swing or throw a pitch, you better go full tilt and you better be completely warmed up.
Play aggressively, do not play laid back.
Show them that you do not belong here. Show them that you are in another league of your own!
MLB Training Programs
3X Extreme Pitching Velocity Program - This is the most respected pitching velocity enhance programs in the game. If you are looking to increase your pitching velocity 5-10mph or more then this is the program you need! You can learn more here:
3X Pitching Velocity Program

2X Velocity Program - This was developed for position players to increase ball speed from all positions including Pop times for catchers. It also trains a faster 60 yard dash which is a key measurement of baseball ability at all tryouts. You can learn more about this system and how it will help you develop a top prospect player profile here:
2X Velocity System
Major League Tryout Camp Schedule 2014
Here is the most current listings of all Major League Baseball Tryout Camps this summer of 2014.
There is no fee for tryout camps.
Registration will be done 30 minutes prior to start of camp.
Participants must be at least 16 years of age.
All players must bring their own equipment.
IMPORTANT: Each player must sign a liability waiver to participate. At least one parent or guardian of Player must sign this form if Player is under the age of 18 (19 in Alabama), in order for Player to participate in any Tryout. A waiver can be obtained under the "Liability Waiver" tab below or at tryout camp registration.
For more information on MLSB Open Tryout Camps and/or updates on our events, please check out the MLSB Facebook page.
Tryouts subject to change.
Date & Time
City/State
Location/Address
Tuesday, June 10, 2014 - 9 a.m.
Springfield, KY
St Catharine College
2735 Bardstown Rd, 40061


Map it!

Wednesday, June 11, 2014 - 9 a.m.
Tuscaloosa, AL
Shelton State CC
9500 Old Greensboro Rd, 35405


Map it!

Wednesday, June 11, 2014 - 9 a.m.
Compton, CA
MLB Urban Youth Academy
1111 E. Artesia Blvd, 90221


Map it!

Wednesday, June 18, 2014 - 9 a.m.
Purcell, OK
Purcell HS
711 N. 9th Ave, 73080


Map it!

Thursday, June 19, 2014 - 11 a.m.
Reading, PA
Gochnauer Field
801 E Bellevue Ave, 19605


Map it!

Friday, June 20, 2014 - 9 a.m.
Neosho, MO
Crowder College
601 Laclede, 64850


Map it!

Tuesday, July 8, 2014 - 9 a.m.
Rockford, IL
Rock Valley JC
3301 North Mulford, 61114


Map it!

Monday, July 14, 2014 - 9 a.m.
Council Bluffs, IA
Iowa Western CC
2700 College Road, 51503


Map it!

Thursday, July 24, 2014 - 10 a.m.
Hampton, VA
War Memorial Stadium
1889 W Pembroke Ave, 23661


Map it!