In this 3 part video series I'm giving you my step-by-step program to increasing your pitching velocity, up to 5 MPH! Yeah, I know that sounds kinda hypey, but it's backed by solid data, scientific research and experience. Go check it out now and see for yourself..
During this FREE Video Series you will learn:
Part 1: "The Force Vector" - You will learn how this single pitching velocity component can turn you into a high velocity pitcher almost overnight…
Part 2: "Triple Extension (3X)" You will learn how this single pitching velocity component is how high velocity pitchers generate their elite power and speed…
Part 3: "Separation" - You will learn how this single component in reaction to the previous components is the final receipt for 90mph…
And you will be coached how to implement these 3X Pitching Velocity components into your pitching delivery in 30 days or less!
Bonus: "FREE eBook and Video Analysis" - Just to make sure you have all that you need to add 5MPH in 30 Days, I will also give you my FREE eBook The BIG 10 Extreme Velocity Secrets and a FREE Video Analysis from ME! Once you suscribe I will send you everything…
Enter your email address in the box to the right to get instant access to the first installment of this free video series.
About Brent "3X Velo" Pourciau
Brent Pourciau has been certified by USA Weightlifting as a Sports Performance Coach. He is a retired professional pitcher and current advisor to several D1 University Baseball organizations.
He has been coaching high school, college and professional pitchers to increase pitching velocity for the past 10 years. His success in training pitchers to reach their velocity goals came first with himself, when he overcame a major rotator cuff tear in college to come back and play pro ball. Not only that but he topped out at 94mph after Doctors told him he would never pitch again.
Ok, let's get serious now!
Yes, I did what very few have been capable of doing in baseball. My life has been nothing but an obstacle course. I was cut from my ninth grade team and the next year I trained my butt off and started varsity, we almost won state. I was born dyslexic and almost flunked out of college. I did what three well respected Doctors and the trainer for the Giants and Dodgers said I would never do, which was to pitch in professional baseball and throw 94mph after a rotator cuff tear at 18. I didn't have the best professional career in the states but overseas I put up some better numbers. I am not Nolan Ryan or Roger Clemens but I would bet I could teach them something about how someone with poor or average velocity can add 5-10mph to their fastball. This is because I not only did it for myself but I helped many different types of pitchers do it in their careers. I love what I do and I am not going anywhere. I am not just a marketer, I am a pitching coach and a pitching trainer. I am coaching and training pitchers everyday at my Baseball Academy in Louisiana called Guerilla Baseball. I also believe this and I have been told, that I am the best when it comes to velocity.
I am bragging about my coaching and training ability but when it came to pitching I was average. I always said if I can do this then anyone can. I know what it is like to suck. I know what it is like to struggle to the point of wanting so bad to quit. I know what it is like to hate this game. This is why I can coach and train pitching so well because I had to almost kill myself to become an average professional pitcher.
I added 10mph to my fastball post surgery!
I was shocked the day this happened. I will never forget. I was playing in a summer league in Los Angeles, California. It was a great league. The league had Bret Saberhagen, Todd Zeile, Jose Canseco to name a few. I was having a blast because I was striking out a lot of guys. I think I had like 120 K's in 50 something innings. It got to the point that my teammates were telling me that I need to stop playing amature ball at 26 years old and go tryout for pro baseball. So I asked a friend to come and we both tried out at a Scouting Bureau camp. They made me pitch last because I was the oldest kid there. They almost forget about me. I had to wait almost 8 hours to pitch to the only scout who was left. He was with the Twins. I topped out at 94mph. The scout ran up to me and said congratulations son have you ever thrown the ball 94mph. I said no. I couldn't believe what he just told me and the next few months was a great ride to pro baseball.
Here is me pitching to my childhood idol Jose Canseco!

I love this game and the opportunities that I was given are priceless. I never would have had these opportunities if I didn't work so hard to create them. I want you to have the opportunities that I had in this game and this is why I want to help you achieve your velocity goals. The benefit I get is reliving my good memories through helping you create good memories. This is why I put a guarantee on this program. I promise you that you will not find a better program on the web than 3X Pitching or a more dedicated Pitching Coach and Trainer than with me. What do you say? Let's create some once in a lifetime opportunities for you?
You can call me at (415) 877-4850
3X Pitching Success Stories
From 80 to 94 MPH
Mitchel has been honored as a National Academic Top Prospect by Perfect Game USA www.PerfectGame.org
Mitchell has also been listed as a Louisiana Top Prospect since his Junior year in High School. NOLA.com
Mitchell signed with LSU as one of their top prospects. Here is what the head coach of LSU Paul Mainieri had to say about him on the LSU website.
LSU's Head Coach Paul Mainieri on Sewald:
"Mitchell is a 6'5 right-handed pitcher who comes to us from Rummel High School in Metairie. He is the classic case of a guy whose body is continuing to mature as he came onto the recruiting scene relatively late. In just one year's time, Mitchell went from throwing 83-85 mph as a junior in high school to throwing 90-94 mph as a senior this past year. He also features a 12-6 breaking ball which he can locate in the zone and drop in for a strike whenever he wants. Mitchell has a very high ceiling as a pitcher and we are ecstatic to see him fulfill his potential at LSU." LSUSports.net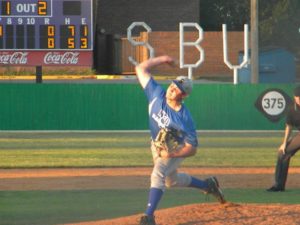 From 83 to 93 MPH
When Kevin first discovered the 3X Pitching approach to increasing pitching velocity he was sitting in the low 80?s. He attended a 3X Velocity Camp at the end of this past summer and was topping out at 86 and only a few months later he was 7 mph harder. Kevin currently plays for Northern Oklahoma College.
Listen to Kevin Royer's 3X Pitching interview where he talks about hitting 93mph in his first fall appearance this 2012: Kevin Royer Interview
From 80 to 90 MPH
Cameron trained with me during the entire 2012 summer using the 3X Programs. He trained through 11 weeks of the Level 1 3X Pitching Velocity program at Guerilla Baseball in Louisiana. He went on to complete the program following his time at Guerilla. He made some big gains and this fall season during his first inter-squad game he experienced the results from his hard work.
Listen to the interview I did with Cameron describing the moment he hit 90mph for the first time in his career and how it made him feel: Cameron Grimsley Interview
Many more stories on the forums and the site!