The Whoop Band is an amazing innovation in the field of wearable technology, positioned at the forefront of health and fitness technology. This cutting-edge gadget is changing the way we approach health management, allowing for unparalleled precision in tracking our individual wellness. It serves as a beacon, announcing a new era of health and fitness efficiency and accuracy.
The Whoop band goes above traditional fitness tracker expectations, bringing a new approach to comprehensive health tracking. Its complex architecture and capabilities are transforming how we understand and improve our health. It opens up new opportunities for individualized wellbeing by continuously measuring, analyzing, and presenting data, setting new benchmarks in health and fitness technologies.
An Introduction to the Whoop Band
The Whoop Band is a wearable fitness tracker that provides detailed information about your health and wellness. The Whoop Strap is designed with a minimalist approach, with no screen or traditional indicators, focusing entirely on recording health data around the clock.
Core Characteristics and Functionality
Heart Rate Monitoring 24 Hours a Day, 7 Days a Week: The Whoop Band monitors heart rate around the clock, allowing users to closely monitor the intricacies of their heart health and trace changes over time. This continuous monitoring of cardiac activity informs the device's calculations for a variety of other wellness metrics, contributing to a complete picture of health.
Sleep Monitoring: Sleep is critical for general health and recuperation. The Whoop Band analyzes your sleep patterns admirably, taking into account elements such as sleep stages, interruptions, and efficiency. This data-driven method assists consumers in better understanding and improving their sleep quality over time.
Analysis of Strain and Recovery: The Whoop Band measures your strain level, which is a measure of the daily cardiovascular stress on your body. It also computes a recovery score, which is a comprehensive measure of how prepared your body is for strain based on characteristics such as heart rate variability (HRV), resting heart rate (RHR), and sleep.
The Whoop Band: A Fitness Tracking Industry Standard
There are numerous solutions for fitness tracking on the market. Few, however, can match the WHOOP Strap 3.0's extensive insights. We compared the device to other popular fitness trackers to truly appreciate its unique features.
Traditional Fitness Trackers vs. Whoop Band
Traditional fitness monitors frequently report only physical activity and calories burnt throughout the day. They may have functions like step counting, distance walking, and basic sleep tracking. While these aspects provide a foundational understanding of physical activity, they do not provide a thorough assessment of overall wellness.
The Whoop Strap on the other hand, goes well beyond simply tracking physical activity. It delves into specific wellness measures such as strain, recuperation, and advanced sleep analysis. This emphasis on holistic wellness distinguishes the Whoop Strap from other fitness trackers.
Whoop Band in comparison to Advanced Fitness Trackers
Even when pitted against more complex fitness trackers, the Whoop Band holds its own. Advanced trackers may include heart rate monitoring as well as GPS tracking, allowing for more in-depth fitness and health analyses. They may also perform sleep analysis, though not always as comprehensively as the Whoop Strap.
The Whoop Band, on the other hand, offers continuous heart rate monitoring, comprehensive sleep analysis that divides sleep into stages, and a detailed recovery score based on a variety of parameters. Furthermore, the strain analysis of the Whoop Strap delivers data that few, if any, other trackers provide.
Finally, the Whoop Band's emphasis on total health and extensive, data-driven analysis positions it as a market leader in fitness tracking. When compared to other trackers, the Whoop Strap consistently provides a degree of knowledge and analysis that few other devices can equal.
You can take your game to the next level with Whoop Band
In your pursuit of health and fitness, don't settle for anything less than the best. The Whoop Strap provides extensive tracking, deep analysis, and individualized insights. This game-changing device is more than simply a fitness tracker; it's your wellness buddy.
Witness the transformative power of accurate, data-driven insights on your fitness path firsthand. With a wearable designed to unlock your maximum potential, you can improve your performance, recovery, and sleep.
So, why bother? Join the community of health and fitness enthusiasts who are transforming their wellness journeys with the Whoop Strap. Begin your journey toward knowledgeable, effective, and efficient fitness today.
Invest in your own health and well-being. Get the Whoop Strap now!
FAQs (Frequently Asked Questions)
What Sets the Whoop Band Apart from Other Fitness Trackers?
The Whoop Band is distinguished by its emphasis on total health measures rather than just fitness. It monitors your sleep, recuperation, and strain levels, as well as your physical activity, to provide a complete picture of your health.
How Is the Whoop Band Heart Rate Monitored?
The Whoop Band measures heart rate with a photoplethysmography (PPG) sensor. This sensor shines light onto the skin and uses the amount of light reflected back to compute heart rate, allowing for continuous monitoring.
How Does the Whoop Band Measure Sleep Quality?
The Whoop Band measures sleep quality by monitoring a variety of factors such as sleep stages (REM, light, and deep sleep), sleep duration, interruptions, and sleep efficiency. This information is then used to calculate your total sleep performance.
Can I Use the Whoop Band for High-Intensity Workouts?
Absolutely. The Whoop Band is built to withstand high-intensity exercises. It is sweat- and water-resistant, and it continuously monitors your heart rate and strain throughout physical activity.
How long does the Whoop Band's battery last?
The Whoop Band has a five-day battery life. It comes with a charging battery pack that can be linked to the strap, allowing you to charge it without having to remove it.
How Is the Whoop Band Recovery Calculated?
The Whoop Band analyzes your heart rate variability (HRV), resting heart rate (RHR), and sleep to calculate recovery. It combines these three criteria to get a recovery score, which indicates how prepared your body is for stress.
Is there a screen on the Whoop Band?
No, the Whoop Band lacks a screen. It's intended to be simple and unobtrusive, with an emphasis on recording your health data around the clock. The Whoop app provides access to all data.
Is the Whoop Band compatible with other fitness apps?
Yes, the Whoop Band can be linked to a number of fitness applications. It can link with apps such as Strava, allowing you to examine your activity data as well as your wellness indicators in one spot.
TopVelocity Patreon Members Receive Special Benefits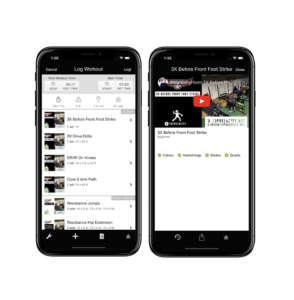 TopVelocity's Patreon membership provides an incredible opportunity for people committed to upgrading their fitness path. Signing up for TopVelocity's Patreon membership grants you access to a wealth of exclusive material and training modules from industry professionals.
TopVelocity's original content is intended to provide in-depth insight and advanced techniques, allowing you to take your fitness regimen to new heights. It's not just about getting in shape; it's about understanding the science behind each movement, improving your performance, and reaching your full potential. This content is continuously updated, ensuring that customers always have access to the most recent fitness insights and training approaches.
The weekly free video analysis is a big benefit of signing up for TopVelocity's Patreon subscription. This is a once-in-a-lifetime opportunity to receive tailored feedback on your training and results. Customers can upload a video of their workout or technique every week, which will be assessed by TopVelocity's top trainers. Based on your video, you will receive unique insights, advice, and recommendations to help you fine-tune your tactics, correct any flaws, and improve your overall performance.
In essence, becoming a TopVelocity Patreon member gives you unrivaled access to professional information and individualized feedback. It provides vital resources to individuals that strive for perfection in their fitness journey and are prepared to go above and beyond. This special membership lays the groundwork for optimal training, allowing you to reach your maximum physical potential.