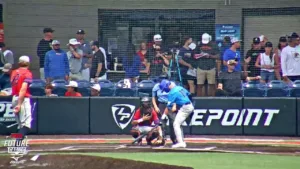 If your child is passionate about baseball and wants to play at a higher level, being recognized by scouts, coaches, and recruiters is critical. Baseball is a competitive sport, and talented players frequently seek opportunities to exhibit their abilities. In this post, we'll look at tried-and-true tactics, insider knowledge, and practical suggestions for getting your son noticed in baseball. Whether he wants to play in college or pursue a professional career, our thorough handbook will provide him with the necessary tools.
What can I do to get my son noticed in baseball?
Begin with a Firm Foundation
To offer your child the best opportunity of standing out, make sure they begin receiving adequate coaching and training at a young age. Enroll them in a respected young baseball league or academy that has skilled coaches who can teach them basic skills and methods.
Foster Passion and Dedication
Passion and effort are the driving forces behind baseball's success. Encourage your child's passion for the sport and their commitment to regular practice and improvement.
Take part in showcases and tournaments
Showcases and tournaments provide fantastic opportunities for players to showcase their abilities in front of college coaches and recruiters. Look for events that are appropriate for your child's age and skill level.
Make Use of Social Media
Social networking can be a great instrument for exposure in today's digital age. Create a professional social media presence for your child and showcase their accomplishments and milestones.
Make contact with coaches and scouts
Develop ties with coaches and scouts who can provide useful information and direction. Attend collegiate and professional sporting events to meet these significant people.
Seek feedback and strive for continuous improvement
Constructive feedback is critical for development. Encourage your child to get feedback from coaches and work on areas where he or she needs to improve. Recruiters are drawn to consistent improvement.
In a player profile, emphasize athletic accomplishments
Create a detailed player profile that highlights your child's athletic accomplishments, academic record, and personal information. This profile will be useful when contacting college coaches.
Achieve Academic Success
Academic achievement is important in the recruiting process. Maintain your child's grades so that he or she remains eligible for academic scholarships.
Attend Baseball Camps
Baseball camps provide wonderful learning experiences as well as exposure to college coaches. Enroll your child in renowned camps to help them improve their abilities and acquire exposure.
Demonstrate Your Versatility and Adaptability
A player who can excel in numerous positions draws notice. Encourage your youngster to gain experience in a variety of positions in order to boost their marketability.
TopVelocity Camps will help get my son noticed in baseball!
Are you a pitcher trying to elevate your skills and gain the attention of college recruiters and scouts? Or are you an all-around player looking to improve your throwing and hitting talents in order to stand out in the baseball world? There is no need to look any further! Join our exclusive 3X Velocity Camp and 2X Velocity Camp to take your performance to new heights.
Why Should Pitchers Attend 3X Velocity Camp?
We recognize that pitching is a unique talent that requires specialized training and coaching at the 3X Velocity Camp. Our program is intended to assist aspiring pitchers in developing exceptional pitching skills that will set them apart from the competition. Here are some of the reasons why you should join:
Expert Coaching: Our camp has a staff of seasoned pitching coaches who have worked with some of the game's finest players. They will provide you with personalized advice to help you improve your mechanics, velocity, and control.
Cutting-Edge Training Methods: We use the most recent research and approaches to improve your pitching performance. We leave no stone untouched in your progress, from biomechanical analysis to video feedback.
Opportunities for Showcases: Throughout the camp, we organize showcases for college recruiters and scouts to visit. This exposure can boost your chances of being discovered by premier baseball programs dramatically.
Surround yourself with like-minded pitchers who share your passion and devotion in a competitive environment. The competitive setting will challenge you to push yourself and improve as a player.

2X Velocity Camp can help you realize your full potential!
Are you a position player who wants to stand out by having great throwing and hitting abilities? Our 2X Velocity Camp is designed for players like you who want to make a big difference on the field. Here's what to expect:
Comprehensive Throwing Mechanics: Our coaches will analyze your throwing mechanics and assist you in making the required adjustments to improve accuracy, arm strength, and efficiency.
Elite Hitting Training: Our specialized hitting lessons will help you master the art of hitting. Learn to recognize pitches, increase bat speed, and fine-tune your swing to drive the ball consistently.

How Do I Sign Up?
Don't pass up this excellent opportunity to improve your game and gain recognition in baseball. Visit www.velocitycamps.com to register for the 3X Velocity Camp or the 2X Velocity Camp and reserve your seat today.
Take the first step in fulfilling your baseball ambitions and becoming a star player. Join the 3X Velocity Pitching Camp or the 2X Velocity All-Around Camp and start on a journey of growth, success, and recognition on the diamond!
Space is limited, so don't delay! Register now to realize your full baseball potential.
FAQs: Get my son noticed in baseball
When should my child begin baseball?
While 5 to 6 years old is the optimal age to begin playing baseball, children as young as 3 years old can begin with age-appropriate activities.
How significant is travel baseball in terms of exposure?
Travel baseball can offer excellent exposure, particularly at competitive tournaments and showcases attended by college coaches and scouts.
Can my child be noticed if he or she does not play for a prominent team?
Without a doubt! While more exposure is provided by prominent teams, exceptional talent can be recognized regardless of the team's status.
How should I approach college coaches about recruiting?
Send an email to college coaches with your child's playing profile, highlight videos, and tournament schedules.
How important are academics in college recruitment?
Academics are important because coaches want student-athletes who can stay eligible while also excelling in the classroom.
Should my child concentrate on one position or play several?
Versatility is advantageous, but excelling in one primary position while being competent in others is a prudent strategy.
To assist your son in getting noticed in baseball, a combination of skill, dedication, and clever networking is required. Encourage them to pursue their interest, to continually grow, and to use numerous platforms to demonstrate their ability. Remember that success in baseball is about more than just getting a scholarship or going pro; it's also about personal development, discipline, and learning key life lessons along the way. Best wishes to your prospective baseball player!