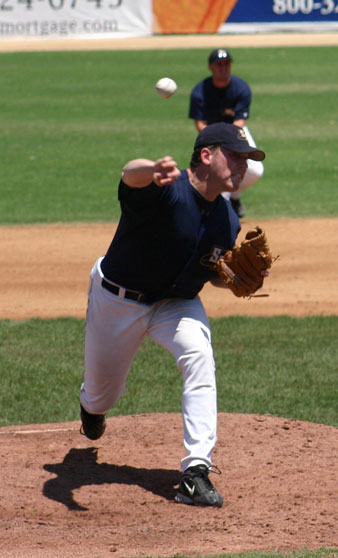 After spending almost five years from when my college baseball career ended, trying to get my arm back from rotator cuff surgery during my freshman year in college, I finally decided it was time to take my last shot at reaching my dream of throwing 94mph and playing pro ball.
College was not much of a career because I constantly struggled with my velocity. I topped out at about 86 mph my senior year, though I did get a lot of playing time in college. I finished my career at an NAIA school because NAIA gave me two more years of eligibility due to my almost career-ending surgery (The NCAA would have forced me to petition to get these two years back). This was a problem because I graduated college at 24 years of age and I was not even touching 90 mph. Not many pro scouts are looking for 24-year-old college graduates who can top out at 86! It took the next five years, to search for some expert advice, to help me reach my velocity goals. I was lucky enough to find some of the best coaches in pitching mechanics and strength and conditioning in the game. With this advice, along with a relentless desire to reach my goals, I started to feel a change occurring. I would continue refining my pitching skills after college by playing in almost every well-known amateur summer league in the country, along with an opportunity to play professional baseball in the European leagues, including the European Championship in Rotterdam, Netherlands. When I turned 28 years old I decided to move to Los Angeles and try a new career.
I Finally Made it to Pro Ball
Once I moved to Los Angeles, I played baseball in the Men's Senior Baseball League during my free time and I recorded a record 120+ strikeouts in 60 innings pitched. The players in the league encouraged me to try out for pro ball because they felt I was throwing very hard. So I made the trip to Fullerton, CA for the Scouting Bureau tryout that summer. I hit 93 mph, which was the hardest pitch recorded during that tryout. I had several scouts show interest in me and even take me to a tryout with a Regional Crosschecker for the Twins. I hit 92 mph that day and he told me, like they all eventually did, that I was too old and that if I was six years younger, he would sign me today. What I learned was that if you are 28 years old, you better be throwing 98 mph if you want a MiLB contract. They encouraged me to try out for the Golden Baseball League, which was a California Independent Minor League organization, so I did and was drafted in the first round for the San Diego Surf Dawgs. I had the opportunity to play for a great Coach Terry Kennedy and my pitching coach Tim Blackwell. I was given the chance to play with and then pitch against my childhood ideal, Jose Canseco with the Surf Dawgs. I even reached my velocity goal that session by topping out one game at 94 mph. I will never forget that day because my Coach Terry Kennedy congratulated me. It was a dream come true, even though I was not in Major League Ball. I retired the next season because of money issues and they also traded me, along with the entire team into the rest of the Golden Baseball League because of contract issues with the city of San Diego.
Overall statistically my stats sucked and if life didn't throw me a curve ball the next season, I would have continued playing and improving on my game. Pitching is a lot more than velocity once you make it through the door but it is almost the only way to make it through the door. I hate to make excuses and this is definitely an excuse, but the reason my stats sucked is that I started the year as a starter, even though I told my Coach I was not ready to be a starter. After my first four games, I think my ERA was around 35. He then decided to give me a second chance and put me into the pen where I immediately shined but was unable to bring my ERA down to a decent number by the end of the season. 7.01 was my career ERA and one season does not a career make but it is what everyone sees when they search my professional stats. This is why I am posting this article in my defense. When I look at the success of that year, I see my stats from the pen below. The rest of my stats are those starting appearances that almost got me released from the team. I learned quickly that my mentality fits in middle relief, or a closer position, at that level of play.
I just hope those who are searching for my name and my success, do not think I am some big talker on Topvelocity.net, even though almost every article on Topveloicity.net is me talking. I guess this does make me a big talker! Well then, if you walk away from this site at least remember this, I am not bragging about my stats in the one year I played Independent Minor League ball on this site. I am bragging about reaching my velocity goal of 94 mph and playing minor league ball after doctors told me I was finished. Going from 86 to 94 mph in my late twenty's, post-surgery, took a tremendous amount of hard work and determination. If I would have had a long professional career, with kick-ass stats, then I would have put together a site called something like, "The Most Awesomest Pitcher Ever.com" but you only got TopVelocity.net because of my success of gaining 10mph on my fastball and using that to play minor league ball. I know velocity better than the majority of coaches in this game and that is a FACT! This knowledge of velocity is what I am giving you here at Topvelocity.net and this is the reason to soak up all of the info on this site because I believe, if I can reach my velocity goals post-surgery, then anyone can! So stop searching for my stats and learn something on this site for FREE that could change your career forever. It changed mine!
Brent Pourciau 2005 Minor League Stats from the Pen
| IP | H | R | ER | BB | SO | HR | ERA |
| --- | --- | --- | --- | --- | --- | --- | --- |
| 3 | 4 | 2 | 2 | 2 | 1 | 1 |   |
| 2 | 5 | 2 | 2 | 0 | 2 | 0 |   |
| 2 | 0 | 0 | 0 | 1 | 1 | 0 |   |
| 1 | 0 | 0 | 0 | 0 | 0 | 0 |   |
| 3 | 3 | 0 | 0 | 2 | 2 | 0 |   |
| 2.1 | 1 | 2 | 2 | 2 | 1 | 0 |   |
| 2 | 2 | 1 | 1 | 2 | 3 | 0 |   |
| 2 | 4 | 3 | 3 | 1 | 1 | 0 |   |
| 1 | 1 | 0 | 0 | 1 | 1 | 0 |   |
| 1.2 | 2 | 1 | 0 | 2 | 1 | 0 |   |
| 2.2 | 4 | 2 | 2 | 3 | 2 | 0 |   |
| 1 | 1 | 0 | 0 | 0 | 1 | 0 |   |
| 3.1 | 1 | 0 | 0 | 1 | 1 | 0 |   |
| 0.1 | 0 | 0 | 0 | 0 | 0 | 0 |   |
| 1 | 1 | 1 | 1 | 1 | 0 | 0 |   |
| 5 | 0 | 0 | 0 | 2 | 5 | 0 |   |
| 0.1 | 2 | 2 | 2 | 0 | 1 | 0 |   |
| 30.8 | 31 | 16 | 15 | 20 | 23 | 1 | 4.25 |
"After the first inning when Reno scored, San Diego starter Brent Pourciau, 4-3, retired 12 of the next 15 hitters before leaving after five innings with just three hits and one unearned run charged to him." Read article (Archived Version)