How many "Pitching Velocity Programs" have you purchased or used this year? How many of them have only had a small impact on your pitching velocity? How many of them do not give you all of the information? How many of them are a total waste of time and money? How many of them just confuse and frustrate you? In most cases pitching velocity programs fail and I have listed below the 10 reason I believe why.
Before we go over these 10 reason it is important to know that the reason high velocity, like 90 mph in high school, college or professional baseball is so attractive to scouts is because only a rare few can touch it or compete above it. If the "Perfect" pitching velocity program did exist, where everyone could touch 90 mph after using it, then 90 mph would eventually become the 85 mph of today.  The point is just because everyone doesn't gain a 90 mph fastball from a pitching velocity program doesn't make it a failure. These 10 reason below and their descriptions are the reason I believe most pitching velocity programs are failures.
1. Only Coach and Train in the Throwing Phase
3X Pitching divides the high velocity pitching delivery into 2 phase; the Stride Phase and the Throwing Phase. The Stride Phase is from the first move out of the leg lift into front foot strike. This is called the Stride Phase because the high velocity pitcher is striding and the throwing arm is only getting into the cocked position at front foot strike. The Throwing Phase is following front foot strike into pitch release when the throwing arm is actually throwing the ball. Low velocity pitchers have less separation between these two phases.
Most pitching velocity programs spend most, if not all, of their focus on the Throwing Phase. This is a flawed approach because all of the speed and power that is transferred into the ball in a high velocity pitcher comes from the Stride Phase. The Stride Phase also makes up about 3/4 of the total time of the pitching delivery. The Throwing Phase of most high velocity pitchers only lasts under .2 seconds. Trying to make adjustments and corrections or only speeding up this short phase is a waste of time and will have a little effect on pitching velocity.
Here is the science that proves only coaching or training the Throwing Phase is not only a flawed approach but it can lead to injury.
In previous work, Kibler and Chandler calculated that a 20% decrease in kinetic energy delivered from the hip and trunk to the arm requires a 34% increase in the rotational velocity of the shoulder to impart the same amount of force to the hand.
Source of reference: Kibler WB, Chandler J. Baseball and tennis. In: Griffin LY, editor. , ed. Rehabilitation of the Injured Knee. St. Louis, MO: Mosby; 1995:219-226.
Read the entire publication here:http://www.ncbi.nlm.nih.gov/pmc/articles/PMC3445080/
2. Do Not Train the Athlete
One of the biggest mistakes most pitching velocity programs make is that they define the pitcher as some type of sports specialty. Like pitching takes a specific genetic make-up to fit the mold of being a pitcher. Pitchers are athletes, period! They are no different than quarterbacks, sprinters or javelin throwers. There is a body type that has the advantage over the other types, but this doesn't mean the other types can not perform at the highest level. The better pitchers are athletes who can move farther and faster than the less effective pitchers, no matter their size. The best example of this is Tim Lincecum.
 3X Pitching believes that to develop the Power Pitcher you must first develop the Power Athlete. You can NOT do this in reverse. So what defines the Power Athlete? This would be his elite speed and strength and how do we develop elite levels of speed and strength in a young athlete? We use strength and conditioning strategies that focus on enhancing the athlete in these areas. Increasing pitching velocity is enhancing performance and you can not have perform enhancement without forcing the body to grow bigger, stronger and faster.

3. Only Use One Exercise or One Device
How many times have you come across a device or a specific exercise that is supposed to be the next greatest thing to single handily increase pitching velocity almost over night? One to many times I bet! If you really believe that you are going to discover this devices or this perfect pitching velocity exercise then I have a pitching velocity pill to sell you.
No single exercise, device or even pitching velocity pill is going to make you an elite pitcher. If it could then 95 mph would be the new 90. Everyone has the desire to find a quick fix but life teaches us that hard work and determination is what separates the caliber of ball player. So let's get serious about pitching velocity and learn the details of what separates you from a high velocity pitcher. 3X Pitching is a comprehensive approach to increasing pitching velocity and it comes stacked with pitching velocity education. If you are going to start today down this rough and tough road to high velocity pitching you are going to have to start learning this stuff. Knowing is half the battle, so you can NOT skip this step. To learn more about this critical learning process and about your road to victory, start here with this article on the 3 Stages of Learning.

4. Re-Gift Old Information
Beware of conventional wisdom that has not evolved with the science of the game. What if you where playing D1 college football with a leather helmet? Would you hope that someone who had learned that the science of today has proven that serious head injuries can lead to permanent brain damage would have warned you to get a new helmet? I hope so! This is why I am warning you of old information re-gifted in a pitching velocity program. A great example would be the extreme long toss fad. The American Sports Medicine Institute (ASMI) advises against this practice based on the results of their case study called, Biomechanical comparison of baseball pitching and long-toss: implications for training and rehabilitation. Here is the conclusion from the study which contains their warning:
Hard, horizontal, flat-ground throws have biomechanical patterns similar to those of pitching and are, therefore, reasonable exercises for pitchers. However, maximum-distance throws produce increased torques and changes in kinematics. Caution is, therefore, advised in the use of these throws for rehabilitation and training.
Read the entire study here:http://www.ncbi.nlm.nih.gov/pubmed/21212502
The lesson here is do your homework and do not stay ignorant to the science of the game. It is why the game is evolving and it is why many pitchers get left behind.

5. Tell You What is Wrong But Not How to Fix it
How many programs/experts have told you what is wrong with your delivery and charged you for it, but never gave you the solution to fix the problem? I am sure enough times to make you want to kick some arss. The reason for this should be obvious but I will give you an analogy so you can have a good understanding why most programs/experts are taking your money.
Let's say your computer breaks one day. You discover that the mouse is not recording your movements so you take it in to a shop for someone to fix the problem. You bring it in and tell them what you think is wrong with it. The expert comes out and turns it on and notices that like you said the mouse is not recording the movements. He tells you to give him a few hours and he should have it fixed. What if you came back in two hours and all he could do was tell you again why it wasn't working? Would you pay him for this service or support? Of course not! This is why you should not pay any pitching velocity program or expert for his services or support if he can only tell you what is wrong but not how to fix it.
Anyone who has spent a few years in baseball can give you some reason why they think you do not look like a high velocity pitcher but a rare few can actually give you the program or process to develop yourself into one. This would mean this expert or program must have a complete understanding of the makings of a high velocity pitcher, just like the computer expert must have a complete understanding of the hardware and software of a computer if he is actually going to fix it. 3X Pitching has proven itself to be a comprehensive approach to high velocity pitching. This is because its literature can take you from leg lift into pitch release and define every single high velocity event and how it is happening. If a pitching velocity program can not do this then how is it going to do more than just tell you what is wrong?

6. Train All Things At Once
Get on the mound, balance point, break hands, equal opposite, stride, land soft, scap load, rotate hips, get on top of ball, pull down, pick up dollar, kick leg high then run 5 miles. Do this and if you have the talent then you will play big league ball.
How about go out, long toss 350 feet and then run polls. Good work! You will be 90+ in no time. Just imagine if they trained hitters this way. This would be like having hitters play homerun derby then go run polls and you are done for the day. Oh and don't weight train hitters because it will make you tight and slow your bat speed.
Why do we still train pitchers this way, when in every other sport and position they separate their training? A quarterback will first work with his passing coach and then his strength and conditioning coach. These coaches will have a series of drills, exercises and lifts to either train motor coordination or muscle development. A golfer like Tiger Woods even has a strength and conditioning coach and then his hitting coach who are working together to develop him into a hitting machine. Why is pitching any different? It is not! The conventional wisdom of this game is as stubborn as it gets and has scared pitchers into not changing the game.

7. Sell You a Program but Not a Service

What good is a pitching velocity program that doesn't support you through it? You could fill libraries with instructional books on pitching but how many of these books actually will help you improve your game more than just a small percentage. More than likely none of them. This is because you can only get so much out of books and videos. Working personally with the expert is critical. This is why universities spend more money on teachers than text books.
The mission statement of 3X Pitching is to develop the high velocity pitcher not just sell books and videos to the low velocity pitcher. The only way this is even possible is if the 3X programs come with a coach. This is why it includes 3X Video Analysis and one on one email and phone coaching. Without this service 3X Pitching would just be another book on the shelf.

8. No Step by Step Process to Success
What good is a program to help you reach success that only gives you a list of drills, exercises or lifts without a step by step process of how and when to use them? You could just search YouTube and get all the drills, exercises and lifts you want for FREE.
Would McDonald's be a successful franchise if they only sold the equipment but not the business model? Anyone can build a burger joint but a rare few can make it profitable. A pitching velocity program to help the pitcher enhance his performance is no different. If you do not have a step by step process to success then what good is the information? This means the program must include a calendar listing when and with how much intensity must the drills, exercises and lifts be performed at. You can't bake a cake with just the ingredients, you need the entire step by step process.
3X Pitching is the complete receipt to pitching velocity. Not only does it give you all the tools which includes the recommended drills, lifts and exercises but a calendar showing you when and how hard to perform them and it has proven success.

9. Only Coach and Train One Part of the Delivery
The high velocity pitching delivery is made up of tons of key movements that an athlete must perform with impeccable timing. Isolating one of these movements as the only one that needs to be developed to have a significant effect on pitching velocity is misleading. Just because you can shift your hips towards the target during your leg lift means very little to improving pitching velocity. Yes, most high velocity pitchers shift their hips towards the target earlier than low velocity pitchers but this is not even the tip of the iceberg when it comes to the entire process.
If any program or coach is going to develop a high velocity pitcher they must use the entire kinetic chain. Isolating one part of this chain and not coaching the rest of it is a flawed approach and will have little effect on pitching velocity. 3X Pitching has completely defined the kinetic chain of the high velocity pitcher and trains it extensively. It also understands that for the pitcher to move into a high velocity category he must have developed the ability to use the kinetic chain more effectively and efficiently.

10. Do Not Use Latest Science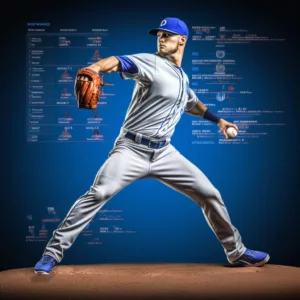 The only way a pitching velocity program will be effective is if it has the science to back it up. Science has changed the bats and it can do the same for the pitcher if the pitcher uses it. Do not leave it up to the bat and ball companies to change this game. Make sure you are up to date on the latest science behind pitching velocity so the game will be forced to keep up with you.
The reason the average velocities of big league pitchers today have increased in the past 50 years is because of science. Those who are not learning and using the science of bio-mechanics and strength and conditioning, are limiting their ability. Do not let the "old school" approaches to pitching that have been proven harmful and ineffective continue to influence your game. You must stay up to date on the latest science if you are going avoid the pitfalls of conventional wisdom.
Here is a great article to get you start toward your education on the latest science of pitching. It is called, Research Proves Why Conventional Wisdom Is Ruining Pitchers Today.