If you haven't used top velocity then this article will teach you all about it.
If you're a baseball player or coach looking for strategies to increase your pitching performance, you may have come across Top Velocity's 3X Velocity Camp. With so many athletes and coaches raving about it, it's natural to question if it's worth a shot and if it genuinely delivers on its promise of increasing pitching velocity and improving overall performance. In this post, we will go over the specifics of the 3X Pitching Velocity Program, analyze its scientific base, and look at the benefits of attending the camp. You will have a better knowledge of what Top Velocity has to offer by the end of this article, allowing you to make an informed decision about whether this program is ideal for you or your athletes.
The 3X Velocity Camp's Scientific Basis
The 3X Pitching Velocity Program is founded on cutting-edge scientific research in biomechanics and sports performance. The program combines mobility exercises, drill-based throwing training, Olympic-style strength and conditioning, and anaerobic conditioning. These aspects work together to improve your pitching mechanics and overall athletic ability by optimizing your body's power production.
Unlock Your Body's Power Production with Mobility Training
The mobility program is intended to help you unlock your body's power production while also lowering your chance of injury. This cutting-edge program focuses on increasing joint mobility and flexibility, helping you to create more power and throw faster. You may lessen the stress on your joints and muscles by increasing your range of motion, lowering your risk of injury and pain.
Overload Velocity Training Drill-Based Throwing Program
The 3X Pitching Velocity Program incorporates a patented medicine ball overload velocity training program that decreases injury risk while improving pitching mechanics. This drill-based throwing program assists you in developing optimal pitching biomechanics, which leads to increased velocity and greater pitch command. You can reduce the risk of injury and assure long-term success on the mound by reinforcing proper movement patterns.
Olympic Strength and Conditioning: How to Develop an Explosive Elite Athlete
Strength and training are critical to improving your pitching performance. The 3X Pitching Velocity Program includes an Olympic-style strength and conditioning program that is specifically intended to increase bulk, power, and motor control. This program helps you build the explosive power and athleticism required for high-velocity pitching by integrating scientific concepts with practical training tactics.
The Advantages of Attending 3X Velocity Camp
Attending the 3X Velocity Camp offers a variety of advantages that will help you improve your game and stand out on the field.
Improve All Pitches' Ball Metrics
The 3X Pitching Velocity Program enhances spin rate and spin axis as well as increasing velocity. These improvements will result in a considerable improvement in the performance of all of your pitches, making you a more fearsome presence on the mound.
Enhance Command and Control
The training assists you in developing higher efficiency in your biomechanics, which leads to increased stamina and dramatically improved fastball command. This greater control lets you to consistently place your pitches where you want them, making solid contact more difficult for batters.
The most recent Artificial Intelligence Technology
The 3X Pitching Velocity Program employs cutting-edge artificial intelligence technology to chart your path to 95+ mph. This innovative artificial intelligence technology detects areas where you are losing velocity and emphasizes chances for further development, allowing you to fine-tune your skills and maximize your potential.
Former MLB Pitchers' Testimonials
The effectiveness of the 3X Pitching Velocity Program is demonstrated by the numerous success stories from former MLB pitchers who saw major improvements in their pitching performance after participating in the program. Some of these testimonials are:
David Aardsma, Former MLB pitcher: "The 3X Pitching Velocity Program rebuilt my MLB career. I was out of the game for four months until I tried 3X Pitching, and then I was back in Big League Ball."
Cody Hall, Former Major League Baseball Pitcher: "Hall feared he was done with the MLB when his velocity dropped to 89 MPH. Hall reentered the MLB after beginning the 3X pitching regimen and reaching 100 MPH."
Bob Wheatley, former MLB pitcher: "After being drafted from USC sitting 85 mph, Wheatley increased his velocity to 92 mph and finished his last season with a 1.52 ERA while on the 3X pitching program."
MLB pitcher Eric Orze: "I started working at TopVelocity after overcoming two bouts with cancer." He returned to college baseball, but his season was cut short after only four games. He worked hard at TopVelocity, developing a 98mph fastball from a 91mph fastball, and was picked in the fifth round. He quickly advanced from A to AAA the following season. He'll be in the Major Leagues shortly!"
Aaron Barrett, Former MLB Pitcher: "After breaking his arm pitching in the MLB, Aaron began training with the 3X Pitching Velocity Program." In his arm, he has two plates and sixteen screws. He is pitching at his previous velocity again after training with the program. He is the only MLB pitcher in history to break his arm while throwing and return to the league."
Don't Pass Up the Chance to Attend the 3X Velocity Camp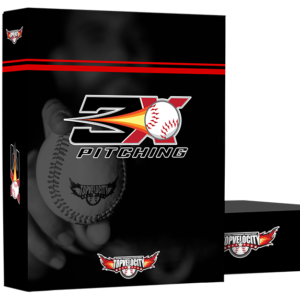 After learning about the science behind the 3X Pitching Velocity Program, the benefits it provides, and testimonials from past MLB pitchers, it's evident that the 3X Velocity Camp is a game-changing opportunity. Take your pitching skills to new heights this summer by joining the 3X Velocity Camp and realizing your full potential.
There are just a few seats left, so don't miss out on this fantastic opportunity to improve your pitching performance. To reserve your position in the 3X Velocity Camp and begin your quest to becoming an excellent pitcher, follow the link below:

Remember that baseball success involves hard effort, dedication, and the proper training methods. You are investing in yourself and your future in the sport by attending the 3X Velocity Camp. Don't miss out on this opportunity; register today to see the difference the 3X Pitching Velocity Program can have in your game.