From 86-92mph, Tucker Hughes Changes His Pitching Career: When determination meets hard work, success often follows. This has certainly been the case for Tucker Hughes, who has transformed his pitching career by increasing his pitch speed from 86-92mph in just a matter of weeks. Hughes recently attended a specialized baseball camp that not only provided valuable one-on-one instruction but also opened his eyes to the areas in which he needed to improve. As a result, Hughes has made incredible progress in a relatively short amount of time, and his story serves as an inspiring example for aspiring athletes looking to elevate their game to the next level.
Before attending the camp, Hughes had a respectable average ball speed of 84-85mph with occasional spikes to 86mph. However, the camp provided him with the tools and guidance necessary to identify and address his mechanical flaws, particularly in his throwing technique. By focusing on these areas, Hughes managed to increase his top-end speed to an impressive 92mph. This rapid improvement is a testament to his dedication and work ethic, and it demonstrates the potential for continued growth as he advances in his baseball career. Hughes' experience highlights the value of personalized instruction and the power of persistence in the face of adversity, both on and off the field.
Here are some key takeaways from this article on Tucker Hughes Changes His Pitching Career From 86-92mph:
Tucker Hughes significantly improved his pitching speed from 86-92mph, thanks to specialized training and guidance.
Attending the 3X Velocity Camp offered valuable one-on-one instruction, helping Hughes identify and address mechanical flaws in his pitching.
The 3X Pitching Velocity Program played a crucial role in refining Hughes' pitching mechanics, leading to increased pitch speed.
Despite facing adversity due to a birth defect, Hughes demonstrated exceptional determination and dedication to his craft, ultimately succeeding in his baseball career.
Specialized training camps, like the 3X Velocity Camp, can have a significant impact on discovering and unlocking an athlete's potential.
Athletes looking to elevate their pitching skills and take their game to the next level are encouraged to attend the 3X Velocity Camp for a transformative experience.
Discovering Potential: The Impact of Specialized Training Camps
The 3X Velocity Camp exemplifies how specialized training camps may have a substantial impact on an athlete's potential and overall performance. The 3X Velocity Camp focuses on improving baseball pitchers' pitching talents through a unique strategy that blends biomechanics, physical training, and mental conditioning to assist participants reach optimal outcomes. This camp ensures that athletes receive the tailored mentoring required to achieve in their sport by adapting the program to fit the specific needs and goals of each individual.
The 3X Velocity Camp has a strong emphasis on biomechanics, which entails examining an athlete's body movements and mechanics to identify areas for growth. Participants learn to refine their pitching techniques with expert coaching, making tweaks that can lead to enhanced velocity and accuracy. Athletes gain a greater grasp of their own strengths and shortcomings as a result of this in-depth research and individualized feedback, helping them to make substantial improvements and reach their maximum potential.
Another important aspect of the 3X Velocity Camp is the emphasis on strength training and conditioning. Recognizing the importance of physical fitness in improving an athlete's performance, the camp comprises a number of workouts and drills designed to develop functional strength, explosiveness, and general agility. The 3X Velocity Camp ensures that participants develop the physical traits required to flourish on the mound by focusing on the specific muscle groups and movement patterns connected with pitching.
The 3X Velocity Camp stresses the importance of mental conditioning in an athlete's success in addition to biomechanics and muscle training. Participants are taught how to establish a strong mental game, which includes cultivating self-confidence, staying focused under pressure, and creating reasonable yet demanding goals. This all-encompassing approach to training not only improves an athlete's physical performance but also encourages personal growth and resilience, both on and off the field.
In conclusion, specialized training camps such as the 3X Velocity Camp are critical in assisting athletes in discovering and unlocking their real potential. These camps equip participants with the tools and knowledge they need to flourish in their sport and realize their athletic aspirations by providing personalized coaching, cutting-edge training techniques, and a focus on mental conditioning.
Addressing Mechanical Flaws: The Key to Unlocking Increased Pitch Speed
The 3X Pitching Velocity Program is a specialized training program designed to assist baseball pitchers in increasing pitch speed by identifying and correcting mechanical defects in their pitching action. This comprehensive approach emphasizes that increasing pitch velocity involves more than just sheer power; it also necessitates a thorough understanding of the subtle mechanics of the pitching process. The 3X Pitching Velocity Program helps players significantly increase their effectiveness on the mound by giving extensive coaching on optimal pitching methods.
The 3X throwing Velocity Program's primary goal is to discover any mechanical defects in an athlete's throwing action that may be impeding their ability to achieve maximum velocity. This is accomplished through a detailed examination of the pitcher's motions, including stride length, hip rotation, and arm action. Once these weaknesses are identified, the program's expert coaching team works directly with the athlete to rectify them, resulting in a more efficient and powerful pitching action.
The 3X Pitching Velocity Program emphasizes the need for good conditioning and strength training in addition to addressing mechanical problems. The program includes workouts that are particularly designed to target the muscle groups and movement patterns connected with pitching. These workouts are designed to develop functional strength, explosiveness, and general athleticism. Pitchers can unlock higher pitch speed and improve their effectiveness on the field by combining strength training with biomechanical modifications.
Finally, the 3X Pitching Velocity Program understands that consistency is essential for long-term success. The program offers athletes continual training and guidance to ensure they retain appropriate throwing mechanics and grow in their development. Regular follow-ups, video analysis, and tailored comments from the coaching staff help athletes stay on track and motivated to reach their goals.
Finally, the 3X Pitching Velocity Program is an effective tool for baseball pitchers who want to improve their pitch speed and overall performance. This program enables athletes to reach their best potential and flourish on the mound by fixing mechanical errors, giving specialized strength training, and providing ongoing support. The combination of biomechanical analysis and focused conditioning ensures that participants not only improve their pitch velocity but also have a better grasp of the mechanics that contribute to their success.
Overcoming Adversity: Tucker Hughes' From 86-92mph
Tucker Hughes' path to success at TopVelocity exemplifies the power of perseverance, hard effort, and tenacity in the face of adversity. Hughes encountered major hurdles as a young athlete that threatened to derail his baseball goals. Despite suffering a significant arm injury that necessitated surgery and experiencing numerous setbacks during his rehabilitation, Hughes refused to give up. Instead, he accepted the challenge and committed to a tough training routine, eventually becoming a model of what can be accomplished through unrelenting determination and a never-say-die mindset.
Hughes' adventure began with his admission to the TopVelocity program, where he worked relentlessly following surgery to regain his strength and pitching mechanics. Hughes was taken through a tailored training regimen by the program's top trainers, with a focus on resolving mechanical errors and improving functional strength in his arm and throughout his body. Hughes was able to make consistent progress in his rehabilitation by combining these targeted activities with a pleasant and supportive environment, gradually regaining his pre-injury form.
Hughes began to notice the benefits of the TopVelocity program on the field as he improved. His pitch velocity rose, his control improved, and his overall performance improved. This accomplishment, however, did not come without hardship. Hughes suffered various obstacles along the way, including times of stagnation and discouragement. Rather than being discouraged by these defeats, Hughes utilized them as inspiration to push himself even harder. His unwavering work ethic and perseverance inspired both his teammates and the TopVelocity coaching staff.
Tucker Hughes' path to success at TopVelocity exemplifies the significance of overcoming adversity in the pursuit of one's aspirations. His unwavering devotion to his rehabilitation, dedication to improving his pitching mechanics, and ability to face setbacks head-on demonstrate the strength of resilience in the face of adversity. Hughes' tale serves as a reminder that anything is achievable with persistence and hard effort. Hughes, now a successful athlete and TopVelocity ambassador, continues to inspire others to overcome their own hurdles and to never give up on their aspirations.
From 86-92mph: Transform Your Pitching Skills at the 3X Velocity Camp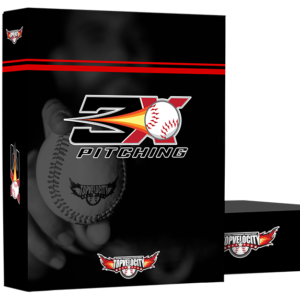 Don't pass up this opportunity to realize your full potential and take your game to new heights! Join us at the 3X Velocity Camp, where our staff of committed and experienced coaches will lead you on a transforming journey to improve your pitching mechanics, boost your velocity, and lay the groundwork for long-term success on the field.
The 3X Velocity Camp is geared to match your individual requirements and ambitions, whether you're an aspiring professional, a collegiate player, or a determined high school athlete. Our program is designed to help you overcome your restrictions and get the results you've always desired by incorporating cutting-edge training techniques, individualized feedback, and a supportive community of like-minded athletes.
So, what are you holding out for? Take the first step toward realizing your potential and securing your baseball future. Register for the 3X Velocity Camp today and join the ranks of countless athletes who have had their careers altered by our tried-and-true training methods. Don't let another season go by without taking charge of your future on the diamond—act today and invest in your future success!
Sign up for the 3X Velocity Camp today to get started on your path to becoming the best pitcher you can be. The moment to act is now; your future self will be grateful. We'll see you on the field!