In baseball, velocity can make or break a game especially if you are trying to go from NAIA to DI Baseball. Abdallah Salman's path as a great left-handed pitcher illustrates the power of persistence and hard effort in reaching one's dreams. Salman, who is from Canada, began his baseball career by throwing at a slow 74-76 mph. He committed to a National Association of Intercollegiate Athletics (NAIA) institution as a high school player but quickly realized he had more to give. Salman began on a transforming quest to improve his pitching velocity in order to gain greater possibilities and a chance to play professionally. He dedicated himself to intense training through the Top Velocity program and managed to elevate his fastball from a peak of 78 mph to a remarkable 94 mph, propelling him from NAIA to Division I NCAA baseball.
Salman's tale is one of determination and self-motivation. Initially focused on bodybuilding to improve his throwing velocity, he quickly learned that bulking up was insufficient. Salman committed to the Top Velocity program's technique of generating explosive power and perfecting pitching mechanics after hearing about it from other sportsmen. His velocity increased in tandem with his strength, power output, and athleticism. This extraordinary metamorphosis piqued the interest of his coaches and classmates, leading to a transfer to Alcorn State University, a Division I school in Southern Mississippi. Abdallah Salman's rise from a 78-mph fastball to a 95-mph fastball is a remarkable monument to the power of hard effort, devotion, and a never-say-die mentality.
Here are some key takeaways from this article on Abdallah Salman 78-95mph From NAIA to DI Baseball:
Building Explosive Power: Focus on training techniques and achievements that develop strength, speed, and agility for enhanced athletic performance.
From NAIA to Division I: The inspiring journey of athletes transitioning from the National Association of Intercollegiate Athletics (NAIA) to NCAA Division I at Alcorn State University.
3X Velocity Camp: An intensive training experience designed to boost pitching velocity, improve athleticism, and cultivate mental toughness in baseball players.
Expert Coaching: Work with a team of experienced coaches and trainers dedicated to helping athletes achieve their goals and excel in the competitive world of baseball.
Networking Opportunities: Forge valuable connections with other like-minded athletes, fostering camaraderie and a supportive environment for growth and development.
Call to Action: Register for the 3X Velocity Camp to unlock your true potential, elevate your game, and secure a bright future in your baseball career.
Discovering Top Velocity: A Turning Point in Salman's Baseball Career from NAIA to DI Baseball
Salman's baseball career from NAIA to DI Baseball took a dramatic turn when he decided to concentrate on improving his pitching velocity. He realized he had a long way to go with an initial reported speed of 78 mph. Salman's focus on refining his mechanics, force generation, and athleticism, on the other hand, resulted in an astounding 17 mph rise in pitching velocity.
Salman's career was transformed when he recognized the significance of activating his lower half in his pitching movements. He had been an early rotator, which meant that his hips rotated before his upper body, resulting in a loss of power. He learned to better engage his lower half by viewing YouTube videos and evaluating his own pitching mechanics, resulting in a more powerful and efficient toss. As a result, his top pitching velocity increased from 78 to 95 mph.
Salman's success can be credited to his commitment to working hard in both the gym and on the mound. He dedicated two months to weight training and mastering his med ball throws, which were critical in increasing his force production. Furthermore, he learned from his mistakes and altered his strategy on a regular basis to ensure that he was continually making progress. He also stressed the significance of an appropriate diet in fueling his body for peak performance.
Salman received help from his partner, a strength and fitness instructor, in addition to his own efforts. She assisted him in fine-tuning his mechanics and provided invaluable advice throughout his adventure. As Salman's journey progresses, he acts as a bright example for those young baseball players seeking to realize their full potential. Anyone may attain their goals on and off the field with determination, self-awareness, and a commitment to growth.
Building Explosive Power: Training Techniques and Achievements
Salman's path to improved velocity and performance on the mound necessitated a disciplined and focused attitude to training. Building explosive power was an important component of his development. Salman used a range of exercises and strategies to do this, including Olympic lifts, plyometrics, and strength training. He understood that in order to become an exceptional mover on the mound, he needed to establish a solid foundation in the weight room and then efficiently translate that strength to his pitching mechanics.
Salman made considerable progress in his training via devotion and hard work. He stressed the significance of appropriate form and movement efficiency, saying, "Moving well before you move a lot is a big key term." Salman was able to polish his mechanics and ensure that his motions were accurate and effective with the help of his fiancée, a strength and conditioning coach, before increasing weight and intensity. This emphasis on perfect form and technique enabled him to maximize the benefits of his exercise while avoiding injury.
Salman's weight-room accomplishments have been nothing short of spectacular. He has gained significant strength and explosiveness, which has resulted in a significant improvement in his pitching velocity. One major achievement was raising his vertical jump to 37 inches, demonstrating the strength he has grown in his bottom half. This explosive power has helped him improve his pitching mechanics and velocity, allowing him to reach previously unachievable mound speeds.
Furthermore, Salman's dedication to adequate nourishment was important in his success. He gave his body the food it needed to recuperate, grow, and adapt to his tough exercise schedule by consistently consuming 4,000 calories per month. Salman has developed into a high-velocity pitcher with a promising future thanks to a mix of clever, targeted training tactics and attention to diet. His accomplishments serve as an inspiration to other athletes who want to realize their full potential via hard work, devotion, and a never-ending pursuit of better.
From NAIA to DI Baseball: The Journey to Alcorn State University
Salman's path to becoming a Division I athlete was anything from standard. His collegiate baseball career began as a freshman at an NAIA school. Although the competition was fierce, Salman realized that he needed to fight at a higher level in order to reach his full potential. This revelation encouraged him to make the transition to Division I baseball. Despite the obstacles that lay ahead, he was determined to establish himself as a quality pitcher and earn a spot on a Division I team.
The road to Alcorn State University was paved with both challenges and victories. Salman put in many hours perfecting his abilities, fine-tuning his pitching mechanics, and working to raise his velocity. He was well aware that in order to advance from NAIA to Division I baseball, he would need to exhibit a level of athleticism and skill that would set him apart from his classmates. He endured failures and times of doubt as he worked relentlessly to improve, but he remained persistent in his pursuit of his dream.
The support and direction he got from his coaches and teammates was a crucial role in his smooth transition to Division I baseball. Salman was lucky to be surrounded by people who believed in his skills and encouraged him to push past his apparent limits throughout his journey. Their encouragement was crucial in helping him build the confidence and mental toughness required to perform at the top level of varsity baseball.
Salman's hard work and perseverance finally paid off in the spring of his sophomore year, when he obtained a scholarship offer to play for Alcorn State University, a Division I school in Mississippi. He accepted the offer with pride and pleasure, and he prepared for the next chapter in his baseball career. Salman's rise from NAIA to Division I is a monument to his persistent determination, work ethic, and love of the game. His story acts as an example for other athletes who may be facing similar obstacles, reminding them that anything is achievable with determination and belief in oneself.
Don't Miss Out on the Opportunity to Ignite Your Baseball Career – Attend the 3X Velocity Camp!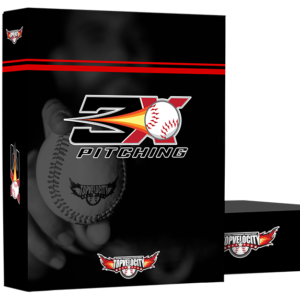 Are you a baseball enthusiast striving to reach your best potential? Are you ready to up your game and improve your performance on the field? There is no need to look any further! The 3X Velocity Camp is the ultimate training experience designed to help you become the best athlete possible.
The 3X Velocity Camp provides an unprecedented, intensive program aimed at increasing pitching velocity, boosting overall athleticism, and developing the mental toughness required for success on the field. Our professional coaching and training staff is committed to giving you the knowledge, tools, and strategies you need to reach your goals and stand out in the competitive baseball world.
Don't miss out on this once-in-a-lifetime opportunity to train with the best in the field, gain from their knowledge, and create lasting connections with other like-minded athletes at the 3X Velocity Camp. Whether you want to earn a college scholarship, move from high school to college baseball, or simply dominate your local league, the 3X Velocity Camp is the key to realizing your full potential.
Spaces are limited and filling up quickly, so don't delay! Register for the 3X Velocity Camp now and embark on a life-changing trip that will catapult your baseball career to new heights. Are you ready to discover your inner champion? Sign up now to become the unstoppable force you were born to be!