Cody Hall, a former top MLB prospect, faced a challenging road back to the big leagues after a drop in velocity and shoulder surgery ruined his career. Hall searched out new training methods to overcome these barriers, determined to recapture his power fastball. This is the narrative of his incredible comeback, from injury and frustration to a return to Major League Baseball with the use of revolutionary tactics that increased his fastball velocity to an astonishing 89-100 mph.
Hall's adventure began with an investigation of different training methods and a determination to improve himself in any manner imaginable. Despite his initial success, a lack of velocity and subsequent injury prompted him to admit he needed to adapt. This insight led him to a facility, where he embraced a difficult program, focusing on mechanics, hip-shoulder separation, and other issues, all while managing a persisting back issue. His efforts were rewarded, as he began to observe improvements in both his fastball velocity and overall performance. This is the remarkable story of Cody Hall's return to Major League Baseball, a monument to the force of perseverance and determination in the face of adversity.
Here are some key takeaways from this article on Cody Hall's 89-100mph From Injured to Back to the MLB:
Overcoming Injury: Cody Hall faced physical and mental challenges, recovering from a shoulder injury and rediscovering his passion for baseball.
Embracing New Training Techniques: Hall utilized the 3X Pitching Velocity Program to boost his velocity, performance, and overall pitching mechanics.
The Road Back to the MLB: Cody Hall's journey from independent ball to major league success highlights his perseverance and determination.
Importance of Support: Hall credits the support of his coaches, trainers, and the 3X Pitching Velocity Program for his successful return to professional baseball.
Testimonials: Other athletes, including David and Chris, have experienced success with the 3X Pitching Velocity Program, demonstrating its effectiveness for various age groups and skill levels.
Unleash Your Full Potential: The call to action encourages aspiring athletes to attend the 3X Velocity Camp and experience the transformative benefits of the program for themselves.
Overcoming Injury: The Physical and Mental Challenges
Cody Hall's road to recovery from a shoulder injury was both physically and mentally demanding. The procedure demanded commitment, perseverance, and a desire to learn new training techniques. Hall says in the interview that he felt like he was 18 again, with no pain in his shoulder and a fresh enthusiasm for the game. This transformation was only possible due to his dedication and hard effort in his rehabilitation and training regimen.
The emotional side of injury recovery is frequently underestimated, although it is critical to an athlete's ability to return to form. Hall's drive to recover and achieve his previous level of skill demonstrates his mental fortitude. Even when faced with setbacks, his determination allowed him to push through the difficulties and ultimately rediscover the love of playing baseball.
Learning to trust his body again after the injury was another huge hurdle for Hall. He had to relearn to believe in his physical ability as he regained his strength and capabilities. This faith in his body, combined with a newfound understanding of his limits and potential, assisted him in regaining control of his fastball and confidence on the field. The increased velocity allowed him to get away with a little more, giving him another layer of confidence in his abilities and skills.
Finally, Hall's tale can be used to inspire others who are in similar situations. He highlights the value of seeking assistance and support rather than attempting to figure things out on one's own. His message to anyone facing similar difficulties is simple: don't give up and don't be hesitant to seek help. It is possible to overcome injuries and return to the game better than ever with hard effort, dedication, and a willingness to learn from others.
The Road Back to the MLB: From Independent Ball to Major League Success
Innovative training approaches must be used by athletes who want to maximize their potential and overcome obstacles. Cody Hall's ability to accept the 3X Pitching Velocity Program was key to his ability to overcome his injury and improve his performance. Through a combination of drills, exercises, and analyses, this program focuses on improving velocity, biomechanics, and general strength. Hall was able to unlock his full potential and push his performance to new heights by embracing this new method.
The 3X Pitching Velocity Program not only helped Hall regain his fastball velocity, but it also gave him a firm basis on which to build. The program emphasizes strength and conditioning, mobility, and flexibility in order to improve an athlete's total athleticism. Athletes can improve their performance and lower their chance of injury by working on these areas. For Hall, this meant getting back on track and excelling at his favorite sport.
Another important part of the training is the emphasis on biomechanics and good pitching technique. Hall was able to generate greater power and raise his fastball velocity by evaluating and perfecting his pitching mechanics. The program emphasizes efficient and repeatable mechanics, assisting athletes in developing a consistent and effective delivery. This emphasis on good technique, along with physical development, enables athletes like Hall to be more successful on the field.
Hall's journey serves as a poignant reminder of the necessity of accepting new training strategies and pushing for constant improvement. He was able to overcome his ailment, increase his velocity, and improve his overall performance by using the 3X Pitching Velocity Program. His experience demonstrates the value of seeking advice, experimenting with new training methods, and committing to the process of growth and development. Adopting new training approaches may be a transforming experience for athletes wanting to break through limitations and elevate their game.
The Road Back to the MLB: From Independent Ball to Major League Success
Cody Hall's return to Major League Baseball has been marked by persistence, determination, and a never-say-die mentality. Hall endured various hurdles after recuperating from a shoulder injury, including playing in independent ball, where many players struggle to re-establish themselves in the professional baseball world. The path to success was paved with hard effort, adaptation, and a dedication to self-improvement, which eventually lead Hall to reclaim his place in the MLB.
The first step in Hall's rehabilitation was to concentrate on his physical and emotional health. This entailed conquering the physical hurdles of his injuries as well as confronting the mental barriers that frequently accompany such setbacks. Hall was able to restore his strength, improve his throwing mechanics, and regain his confidence on the mound by implementing new training approaches such as the 3X throwing Velocity Program. This newfound self-belief and commitment were critical to his return to professional baseball.
Hall's stint in independent ball was crucial in putting his improved talents and strategies to the test. It allowed him to put what he had learned into practice and fine-tune his performance in-game settings. His strong pitching in independent ball demonstrated his passion for the sport and drew the attention of MLB scouts, allowing him to return to the major leagues. His performance in independent ball proved that he was ready for the next level, and his dedication was finally paying off.
Cody Hall's remarkable narrative of endurance and determination emphasizes the value of overcoming adversity, accepting change, and trusting in one's own potential. Hall's journey from recuperating from a possibly career-ending injury to flourishing in independent ball and eventually returning to the MLB serves as an inspiring model for sportsmen facing similar problems. His journey back to the Major Leagues exemplifies the value of steadfast dedication, embracing innovative training techniques, and maintaining a strong mindset in the face of adversity.
Unleash Your Full Potential: Join the 3X Velocity Camp Today!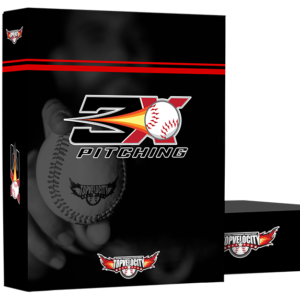 Are you ready to elevate your pitching game and realize your best potential? The 3X Velocity Camp is specifically designed to assist you in doing so. Don't pass up this fantastic opportunity to learn from the best, enhance your skills, and revolutionize your pitching performance. Sign up for the 3X Velocity Camp today and see for yourself the life-changing results!
You'll get expert teaching, individual feedback, and access to cutting-edge training strategies that have already helped countless athletes, including Cody Hall, restore confidence and achieve success at the highest levels of baseball. This complete curriculum will provide you with the tools and knowledge you need to improve your pitching velocity, mechanics, and mental game.
The 3X Velocity Camp's dedicated staff of experienced coaches and trainers is committed to assisting you in reaching your top performance. They recognize the value of perseverance, hard work, and constant progress in the quest of success. You will be joining a community of like-minded athletes who are all aspiring for excellence by attending the camp.
Don't let this chance pass you by! Invest in your future as a powerful force on the mound by registering for the 3X Velocity Camp now. It's time to unleash your full potential and take your throwing game to new heights you never imagined possible. Secure your spot now and begin your road to being the best pitcher you can be!