In this enthralling story, "He Went 88-98mph From NAIA to MiLB," we delve into the incredible journey of Hunter Spear, a great collegiate baseball player who tried to overcome the obstacles that were preventing him from realizing his full potential. Hunter met Brent Pourciau, CEO of a highly specialized baseball training program, just a year ago with a burning desire to conquer the obstacles that had held him from routinely throwing in the 90s. Hunter's size and physique provided obstacles that hampered his velocity despite his outstanding mechanics. Brent Pourciau's curriculum provided a one-of-a-kind and extremely specific technique that would assist Hunter in identifying his flaws and unlocking the potential that lay latent inside him.
In this post, we will look at how Hunter was able to drastically enhance his performance on the mound via hard effort, dedication, and direction from Brent Pourciau and his crew. Hunter's tale demonstrates the effectiveness of the training program, which focuses on building an individual's particular strengths while also correcting specific deficiencies. Hunter's path, from his early troubles with linear movement down the mound to his extraordinary metamorphosis into a highly effective starting pitcher, serves as a compelling reminder of what can be accomplished through dedication, discipline, and determination. As you read the article, you'll learn the keys to Hunter's extraordinary progress and why Brent Pourciau's approach is a game-changer for athletes who want to realize their maximum potential.
Here are some key takeaways from this article on How Hunter Speer Went 88-98mph From NAIA to MiLB:
Unlocking Hidden Potential 88-98mph: The article discusses the importance of addressing weaknesses and building strengths to uncover the hidden potential in athletes.
The Power of Commitment 88-98mph: Hunter's journey to breakthrough performance serves as an inspiring example of how dedication and perseverance can lead to success in baseball.
Brent Pourciau's Game-Changing Program: The article highlights Brent Pourciau's innovative and effective approach to training, which has helped countless athletes achieve success in baseball.
3X Velocity Camp to go 88-98mph: This exclusive camp offers personalized coaching, cutting-edge training techniques, and a supportive environment for athletes to develop their skills and mindset.
Limited Spots Available: Due to the high demand and limited availability, athletes are encouraged to register early for the 3X Velocity Camp to secure their spot.
The article urges readers to take advantage of this unique opportunity to learn from Brent Pourciau and his team, transform their baseball careers, and achieve new heights in their athletic journey by attending the 3X Velocity Camp.
Unlocking Hidden Potential 88-98mph: Addressing Weaknesses and Building Strengths
Every athlete has untapped potential that has to be identified, and the key to unlocking it is to identify and treat specific deficiencies while building on current strengths. In the instance of Hunter Spear, his first meeting with Brent Pourciau indicated that, although having superb mechanics and agility, his size and build hindered his velocity. To overcome this obstacle, Brent's program designed a one-of-a-kind method for Hunter that concentrated on the components of his game that needed to be improved, such as producing greater force through the ground and improving his linear movement down the mound.
The program's emphasis on personalised instruction is one of its most important features. Every athlete is different, and a one-size-fits-all approach rarely results in success. The program devised a focused strategy that precisely addressed Hunter's unique limitations after extensively reviewing his performance and identified the areas that required work. This all-encompassing strategy ensures that athletes like Hunter can reach their full potential, resulting in considerable increases in overall performance.
The program's effectiveness is based on its ability to effortlessly combine the development of physical abilities with the improvement of an athlete's mental fortitude. Hunter improved through the program not just because he obtained a deeper understanding of the technical aspects of his game, but also because he developed the mental fortitude required to endure through the hardships that come with achieving perfection. This mix of physical capability and mental strength is critical in unleashing an athlete's hidden potential since it allows them to break down the boundaries that previously held them back.
In conclusion, the path to discovering latent potential begins with correcting flaws and developing strengths, both physically and mentally. Brent Pourciau's program takes a highly individualized approach to each individual athlete, concentrating on their specific needs and assisting them in overcoming the challenges that impede their success. Athletes, like Hunter Spear, may transform their performance on the field and unlock their full potential with hard work, dedication, and coaching from professionals like Brent.
The Power of Commitment: Hunter's Journey to Breakthrough Performance 88-98mph
Hunter Spear's path to a breakthrough performance 88-98mph began with a steadfast determination to excel in his chosen sport. Recognizing that his velocity was preventing him from reaching his full potential, Hunter sought the advice of Brent Pourciau, a well-known coach who specialized in assisting athletes in overcoming their limitations. Hunter's commitment to self-improvement was the motivating force behind his choice to devote time and effort to honing his talents and correcting flaws in his game.
Hunter showed tremendous drive and a good work ethic throughout the process from 88-98mph, which aided his success. He welcomed the difficulties that came his way and continuously pushed himself to new heights with Brent's direction. His unrelenting focus demonstrated the power of commitment, as he committed endless hours to improve his strength, conditioning, and technical skills. His dedication, combined with Brent's skill, enabled him to make major leaps in his baseball development.
Hunter's breakthrough performance developed as he continued to improve his game. Brent's specific training approach and his constant pursuit of perfection resulted in tremendous improvements in his velocity and overall performance on the mound. This metamorphosis did not happen quickly; it was the result of years of hard work and dedication to his goals.
Hunter Spear's story is an amazing example of the power of dedication in reaching breakthrough results. Athletes can overcome their restrictions and reach new heights in their chosen sports with the correct mindset, steadfast determination, and expert instruction. Hunter's tale exemplifies the enormous influence that hard effort, persistence, and a drive to grow can have on a person's journey to success.
Brent Pourciau's Game-Changing Program: A Recipe for Success in Baseball
Brent Pourciau, a well-known figure in baseball coaching, has created a game-changing program that has changed the way athletes approach training and performance. Brent has developed a thorough approach based on his significant experience and knowledge of the sport, emphasizing the significance of fixing shortcomings, boosting strengths, and having a winning mindset. This one-of-a-kind strategy has received international recognition and acclaim for its ability to deliver tangible outcomes for players of all levels.
Brent's approach is based on the premise that each athlete has latent potential that can be realized through concentrated training, personalized direction, and steadfast commitment. His approaches are centered on recognizing and treating each player's unique needs, ensuring that the training regimen is personalized to maximize development in important areas like velocity, strength, and fitness. Brent's approach encourages athletes to push past their perceived limits and achieve exceptional levels of performance by combining cutting-edge training techniques with a great understanding of the sport's intricacies.
The holistic approach to athlete development is one of the most appealing parts of Brent Pourciau's curriculum. Recognizing that success in baseball extends beyond athletic ability, Brent lays a major focus on instilling a winning mentality in his players. This includes establishing characteristics like as discipline, resilience, and self-belief, all of which are necessary for overcoming hurdles and maintaining a high level of performance under pressure. Athletes are given the skills they need to excel both on and off the field as a result of this complete strategy.
As proved by the innumerable athletes who have benefited from his guidance and knowledge, Brent Pourciau's game-changing approach has proven to be a recipe for success in baseball. Brent's curriculum provides a complete framework that helps players to discover their latent potential and realize their dreams by addressing both the physical and mental sides of the game. Brent's approach is a potent catalyst for success in the world of baseball, with a track record of delivering breakthrough performances and promoting long-term progress.
Don't Miss Out on the Opportunity of a Lifetime – Register for the 3X Velocity Camp Today!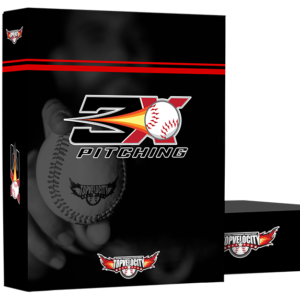 Are you ready to develop your baseball abilities? Look no further than the 3X Velocity Camp, a one-of-a-kind event created and directed by renowned baseball coach Brent Pourciau. This revolutionary program is your ticket to realizing your full potential, correcting your deficiencies, and strengthening your strengths in order to become the best athlete you can be. Don't pass up this opportunity to up your game and begin your journey to breakthrough performance.
You'll get personalized coaching and assistance from Brent Pourciau and his team of seasoned instructors at the 3X Velocity Camp, who are dedicated to helping you thrive on and off the field. You'll be immersed in a supportive environment where you'll learn cutting-edge training techniques, cultivate a winning mindset, and have access to a network of like-minded athletes who share your love of the game.
But keep in mind that spaces at the 3X Velocity Camp are limited and in high demand, so don't wait! Reserving your spot today is the first step toward transforming your baseball career. The 3X Velocity Camp is the ultimate location for unlocking your latent potential and reaching new heights in your athletic adventure, whether you're a novice, an aspiring professional, or a seasoned player looking for that additional edge.
Act now to take advantage of this once-in-a-lifetime opportunity to learn from the greatest and join the ranks of numerous athletes who have benefited from Brent Pourciau's game-changing curriculum. Visit our website today to book your position in the 3X Velocity Camp. It's time to commit to your baseball future and feel the power of Brent Pourciau's tried-and-true formula for success. Don't put it off any longer - this is your chance!