You can download below the Baseball Pitcher Workout PDF.
Various approaches and strategies compete for attention in the dynamic and ever-changing world of baseball. However, one stands out from the crowd, becoming a game changer for many aspiring and professional players: the 3X Pitching Velocity Program. This ground-breaking program, which has created quite a stir in the baseball community, is at the heart of a holistic approach geared at improving a player's pitching speed, a critical skill that may have a substantial impact on a player's performance and competitive advantage.
This novel method is packaged in a user-friendly PDF format. The 3X Pitching Velocity Program provides exceptional convenience by allowing users to download and access the content at their leisure. This well-organized, detail-oriented book does more than just offer promises; it provides major improvements in throwing speed. It does more than just set goals; it provides players with the knowledge, skills, and training they need to achieve those goals and flourish in the competitive world of baseball. The program's dedication to enhancing performance and encouraging progress makes it a must-have tool in any player's inventory.
Unpacking the 3X Pitching Velocity Program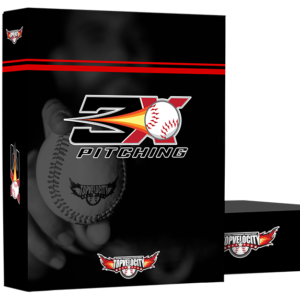 Within the baseball industry, the 3X Pitching Velocity Program is a light of sophisticated scientific understanding and practical application. It is more than just a set of exercises; it is a whole training system based on scientific study. The program's core is a multifaceted strategy that addresses not simply isolated areas of a player's conditioning, biomechanics, and pitching mechanics. This combination of features attempts to provide a strong, well-rounded foundation that can significantly boost pitching speed.
One important aspect of the program is its emphasis on general physical fitness. The program offers a variety of activities aimed at increasing strength, agility, and endurance. The goal is to improve a player's physical talents, making them better capable of consistently performing high-speed throws.
Furthermore, the program makes significant investments in biomechanics and pitching mechanics. The application of mechanical concepts to biological systems, such as the human body, is referred to as biomechanics. Players can optimize their actions for more effective and efficient pitching by knowing and applying these principles. In addition, the program emphasizes the significance of developing pitching mechanics - the precise sequence of motions that lead to a pitch. The combination of these aspects yields a comprehensive, well-rounded technique that effectively increases pitching speed.
Baseball Pitcher Workout PDF - [Download]
The 3X Pitching Velocity Program's Key Components
This program is made up of several components, each of which has been carefully designed to contribute to an improvement in pitching speed. Let's look at the essential elements that make up this comprehensive program.
Conditioning and Strength: A strong body is the foundation of a great baseball pitcher. The PDF version of the 3X Pitching Velocity Program includes a specific strength and conditioning routine that has been methodically crafted to improve your overall physical fitness. This regimen, which includes weight training, cardiovascular activities, and flexibility exercises, guarantees that you develop the muscle strength and endurance needed to pitch at higher speeds.
The science of biomechanics: The program dives into the science of human movement in depth. It teaches you the proper body mechanics required for high-speed pitching. It can help you enhance your pitching technique and maximize your effectiveness on the field by providing insightful insights on physics and body movements.
Nutritional Advice: The emphasis on nutrition is another unique feature of the 3X Pitching Velocity Program. This program provides thorough nutritional recommendations to effectively feed your body for the intense exercises and high-speed pitches.
Mental Conditioning: Recognizing the importance of psychological strength in athletic achievement, this program includes a thorough mental training section. This section of the program tries to develop mental toughness, concentration, and confidence, all of which are necessary for anyone aspiring to the peak of baseball accomplishment.
Individualization: The 3X Pitching Velocity Program is not one-size-fits-all. It recognizes that each athlete is unique, with distinct strengths, weaknesses, and aspirations. As a result, it has options for customization, allowing each user to tailor the application to their individual needs and goals.
Harnessing the Power of Baseball Pitcher Workout PDF
The route to considerable increase in pitching speed through the 3X Pitching Velocity Program is one that requires unrelenting devotion. This is not a voyage for the faint of heart; it necessitates performing the necessary strength and conditioning workouts on a daily basis, studying and comprehending the biomechanics involved, and continuously practicing and perfecting the throwing mechanics. This level of dedication requires more than just participation; it involves intense focus, a thorough knowledge of the goal of each practice, and an active pursuit of mastery.
Along with diligence, the path necessitates a great level of devotion. The 3X Pitching Velocity Program is extensive and tough. It includes a variety of components, ranging from physical conditioning to mental fortitude. Engaging completely in each of these areas necessitates a major investment of time and energy. It is about making a promise to oneself to stick with the program, to push through obstacles, and to stay focused on the end objective regardless of the obstacles experienced along the road.
Finally, patience is an often ignored but equally important factor. It's easy to slip into the trap of expecting rapid results in the age of instant gratification. However, long-term improvement in pitching speed is a slow process that results from regular and long-term implementation of the program's principals. Keep in mind that improving your pitching speed is a marathon, not a sprint. It demands patience, trust in the process, and appreciation for minor triumphs along the road.
Take the Baseball Pitcher Workout PDF to the Next Level with Remote Coaching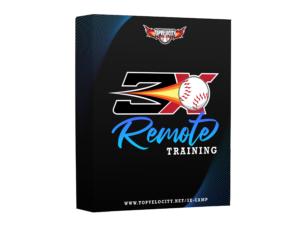 Begin a transforming journey to improve your pitching game right now. The 3X Pitching Velocity Program now provides virtual coaching, allowing you to enjoy a world-class training program from the convenience of your own home.
You don't simply improve your pitching velocity with this program; you also acquire a well-rounded skill set that can help you dominate the field. The program's emphasis on fitness, biomechanics, and throwing mechanics, combined with remote instruction from our specialist coaches, guarantees a customized and effective training experience.
Don't allow geographical limitations stop you. Rise above the mundane and realize your actual baseball potential. Fill out the request form on our website at topvelocity.net/remote. Let's get started on your path to becoming a stronger, faster, and more agile pitcher. Your path to success begins here. Act immediately!