Baseball pitching is a difficult sport to master because it requires mastering complicated skills, reading the game in real time, and making quick, smart judgments. And what better way to get started than with some free baseball pitching charts? They are a wonderful resource for understanding and improving your game. In this article, we'll look at why these charts are important, where you can get them, and how to utilize them effectively.
Why Do Baseball Pitching Charts Exist?
Baseball pitching charts, also known as pitch charts, are instruments used by coaches and players to record pitcher performance throughout a game. These charts collect information such as pitch type, pitch location, and pitch outcome to provide a complete view of a pitcher's performance.
Understanding your game through data can be transformative—it allows you to identify your strengths and areas for improvement, allowing you to fine-tune your strategy. What's more, the best part? These charts are completely free! Why not make the most of your pitching?
Pitching Chart Components
Baseball pitching charts are more than just scribbles on paper. They are well-structured and feature numerous critical components, each of which captures an important facet of your pitching performance. Among the major components are:
Pitch Type: This field records the many sorts of pitches you throw, such as fastballs, curveballs, sliders, and others.
Pitch Location: The location of the pitch across the strike zone.
Pitch Result: This field records the outcome of each pitch, whether it be a ball, strike, hit, or foul.
Understanding these components is the first step in getting the most out of baseball pitching charts.
How to Effectively Use Baseball Pitching Charts
A pitching chart is more than just a data collection tool; it also aids in strategy development. Here's how to make the most of it:
Data Recording: Maintain a detailed record of all your pitches. The more specific the data, the more precise the analysis.
Pattern Analysis: You'll see trends in your pitching over time. These patterns might reflect both good and unhealthy habits.
Strategize: Apply these insights to create a customized pitching approach that fits your style and addresses your limitations.
Remember, the goal is to use the chart to learn, adapt, and evolve as a pitcher, not merely to fill it up.
Where Can I Get Free Pitching Charts?
There are numerous websites where you may obtain free baseball throwing charts. Sites such as QCBaseball, Baseball Almanac, and others provide a number of chart designs that appeal to various skill levels and game difficulties. Simply download and print, and you're ready to go!
A Closer Look at the Top 5 Free Baseball Pitching Charts
Each throwing chart is distinct and serves a certain function. Let's have a look at the top 5 free baseball pitching charts available on the internet:
The Basic Pitching Chart: is ideal for beginning pitchers. It addresses fundamental issues such as pitch type and pitch location.
The Advanced Pitching Chart: is designed for advanced pitchers. It provides more detailed information such as pitch speed, batter reactions, and so on.
The Strategic Pitching Chart: is designed specifically for strategists. It is concerned with mapping pitch sequences and results.
The Player-Specific Pitching Chart: Designed specifically for individual players. It keeps track of your personal patterns and improvements over time.
Game-Specific Pitching Chart: This chart is designed for specific games or competitions. It collects data that is critical to understanding certain game dynamics.
Two FREE Downloadable Baseball Pitching Charts
Creating Your Own Pitching Chart
Pre-made charts are useful, but creating your pitching chart gives you an advantage. It helps you to concentrate on parts of your game that are most important to you. Customization might include anything from tracking specific pitch types to recording meteorological conditions. Remember, it's your chart and your rules!
Apps for Pitching Charts: The Digital Evolution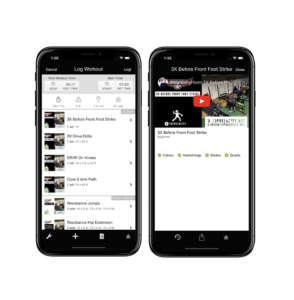 Today, we're seeing a shift away from paper-based pitching chart apps and toward digital pitching chart apps. These apps provide simplicity and extensive analytics, allowing you to track and analyze your pitching performance more easily. PitchAware Charting, Strikelab,  and Bullpen Bot.
What Do Pitching Charts Mean to Coaches?
Pitching charts are often recommended by coaches due to their numerous advantages. They enable them to better understand each player's performance, guide them more effectively, and design winning plans. According to Coach John Madden, "pitching charts are the GPS to a player's improvement journey."
Using Advanced Pitching Charts to Improve Your Game
Advanced pitching charts provide more information about your game. They capture minute details such as pitch velocity, spin rate, batter's swing, and more. Advanced pitching charts can be your hidden weapon if you want to step up your game.
Mistakes to Avoid When Using Pitching Charts
While pitching charts are important, if not used effectively, they might backfire. Some common errors include inconsistent data recording, ignoring pattern analysis, and failing to capitalize on chart insights. Avoiding these problems will allow you to fully utilize your pitching chart.
FAQs:
What exactly are pitching charts in baseball?
Baseball pitching charts are tools used to track and analyze the performance of a pitcher throughout a game.
What are the benefits of using a pitching chart?
Pitching charts can help you understand your game's strengths and shortcomings, allowing you to design specific strategies and improve your performance.
How can I get free baseball throwing charts?
Baseball pitching charts can be downloaded for free from several websites, including QCBaseball and Baseball Almanac.
Can I make changes to my baseball pitching chart?
Absolutely! Customizing your chart allows you to concentrate on specific parts of your game that you wish to develop or track.
What is the digital equivalent of the classic pitching chart?
Digital pitching chart apps are cutting-edge replacements for traditional paper-based charts. They offer advanced analytics as well as convenience.
Baseball throwing charts, whether you're a new or seasoned pitcher, may be game changers. They are about using data to understand your game and applying that knowledge to better your strategy and performance. There's no excuse not to start exploiting the multitude of free information available online. So, what are you holding out for? Download your free baseball pitching chart today and improve your game!